Welcome to Biruwe! Biruwe is a small village of North-Kivu, located five kilometers from Nkuba, the village where we live. We visited Biruwe for the first time when Frederik needed to go to the local hospital to test for the malaria. Luckily, he did not have malaria : it was just a cold. Even more lucky for us, we met Dr Bikungu. Doctor Jonathan Bikungu arrived in Biruwe in 2015. Raised in Goma, coming to live in such a remote and destitute region was no easy choice. Life in Biruwe and in all other villages nearby is tough. Here, we have little access to clean water, to electricity and… to varied food.
In the region, the diet is typically based on cassava, also called manioc. Women mix cassava flour with water to make sticky balls called 'foufou', and mash cassava leaves with palm oil to make 'sombe'. Foufou and sombe are the basis of almost every meal and are eaten with fish or meat. In Congo, and especially the region where we work, the best of meals is a pile of meat with foufou! But meat and fish are hard to find in the forest and are expensive to buy from the markets. Of course, such a poor diet with little vegetables and fruits is very unhealthy. As a result, most people, and especially children, suffer from malnutrition.
As the local doctor, Jonathan saw the devastating effects of malnutrition in the village on a daily basis. And these effects were especially hard on the poorest. He had to find a solution and he came up with the idea of FAEVU: The Eagle's Foundation for the Support of the Vulnerable. The goal of the foundation is to help women, children and all those living in the utmost poverty by providing them with healthy food. So, Jonathan set up several large fields to grow a variety of vegetables and fruits. Peppers, tomatoes, eggplants, cabbages, onions, watermelons… There is always something delicious to eat in there.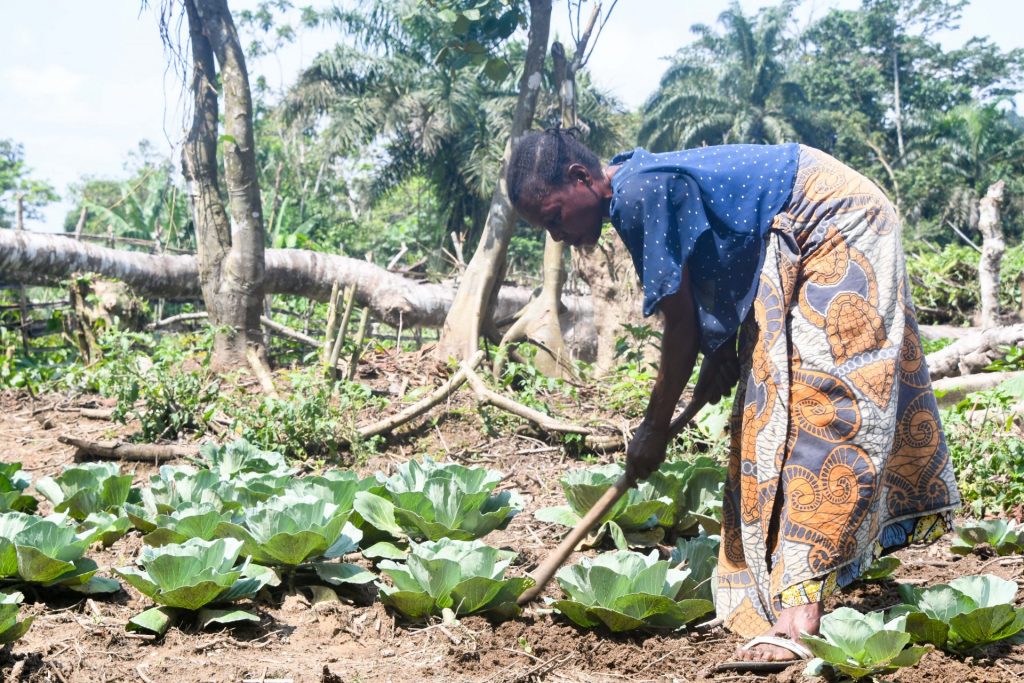 But of course, Jonathan could not do it on his own. Everything, from the seeding to the harvesting, must be done by hand. He therefore enlisted a team of women from the surrounding communities to work in the fields. On the days these wives and mothers work, they take home a part of the food produced. This way, the vegetables directly benefit their families. Jonathan sells the rest of the production and uses the money to buy more seeds and raise chickens and rabbits. The animals are given to the poorest families so they can start breeding them and eat meat more often.
FAEVU would not have seen the light of day without the Dian Fossey Gorilla Fund International. The organization lent financial support to the project from its very beginning. Today, we still provide FAEVU with material, such as hoses or uniforms. Uniforms especially are a big success with the workers, who love to feel part of this amazing team.
What next? Dr. Bikungu is not done yet. With the help of Bonheur and Josue, two enthusiastic young men, he has set up a new program to help women grow vegetables in their own backyard. This is a big change from the traditional practice to set up large fields to grow manioc in the rainforest, often hours away by feet from their houses.
But that is not all. Jonathan has also mentioned he is setting up a bakery. Frederik and I are super excited about this. It currently takes us four to five hours by car to get fresh bread! This means we are lucky if we eat bread once every few weeks. We can't wait to get fresh bread every day, along with our weekly delivery of vegetables. Because let's face it: without Jonathan's greens, we would not have survived long on Nkuba's diet.