Brisbane is the most populated city of the state of Queensland, Australia. Located on the Brisbane river, it is only 950 km North of Sydney, almost next door for Australian standards. As the country is known to hold some of the most amazing and diverse wildlife and scenery in the world, Brisbane is unsurprisingly surrounded by a variety of very interesting natural spots. In these areas, you can find quite a few species of the incredible fauna (and flora) of Oz which are definitely worth the trip (which is usually long, Australia being so, so very large).
I spent four months in Brisbane, from November 2016 until February 2017. This corresponds to full summer in Queensland, which means a delightful combination of excruciating heat and very high levels of humidity accompanied by the occasional tropical storms. At this time of the year especially, it is a good idea to get up very early to enjoy the morning's freshness and if you are looking for wildlife, dawn is the best (and almost only) time when most of the diurnal animals are active. Because I stayed in Brissie (the city's affectionate nickname) for work, the only time I could travel besides the road trip we took with Frederik along the East Coast (see our post), was during the weekends, so here I will talk about day or two-days trips you can take to escape the city and encounter nature.
One day on North Stradbroke Island: dolphins, koalas and beautiful beaches
Often referred to as 'Straddie', Australia's second biggest sand island lies a couple of hours away from the city by public transport (which involves a few trains and buses as well as one ferry ride). The island is fairly large, which means that you will need transportation to reach the differentof interest: if you don't have a car (there is a campsite on the island), a local bus service loops around the island (for a few dollars to be paid cash at the time of my visit). Alternatively, many agencies organize tours to go snorkeling or diving and will pick you up at the ferry terminal. We (a few friends and I) chose the latter option and went snorkeling near Point Lookout at the northern tip of the island. Despite poor visibility (it was unfortunately windy), the cold water (it was early morning on an overcast and windy day) and the relatively unexciting fish diversity, we did find two indo-pacific humpback dolphins (Sousa chinensis) to swim with. We were told they are habituated animals fed at a station a little further that scout the coast for extra snack opportunities, which means they are not afraid of people and happily swim close by you. It is quite an amazing experience.
After our little dip in the water, our guide kindly showed us around. In a nearby eucalyptus stand, we found a grumpy-looking kola (Phascolarctos cinereus). It was my first koala and I was, I must admit, a little disappointed about its appearance: it looked a little dumb. Fortunately, it was close enough so that I could take a good picture of it, so I forgive it for not meeting my koala-cuteness standards set by the stuffed ones I snuggled with as a kid. Birdwatchers will be interested by the numerous nests often occupied by White-Bellied Sea Eagles (Haliaeetus leucogaster). But the best of Straddie are definitely the beaches: they are stunningly beautiful.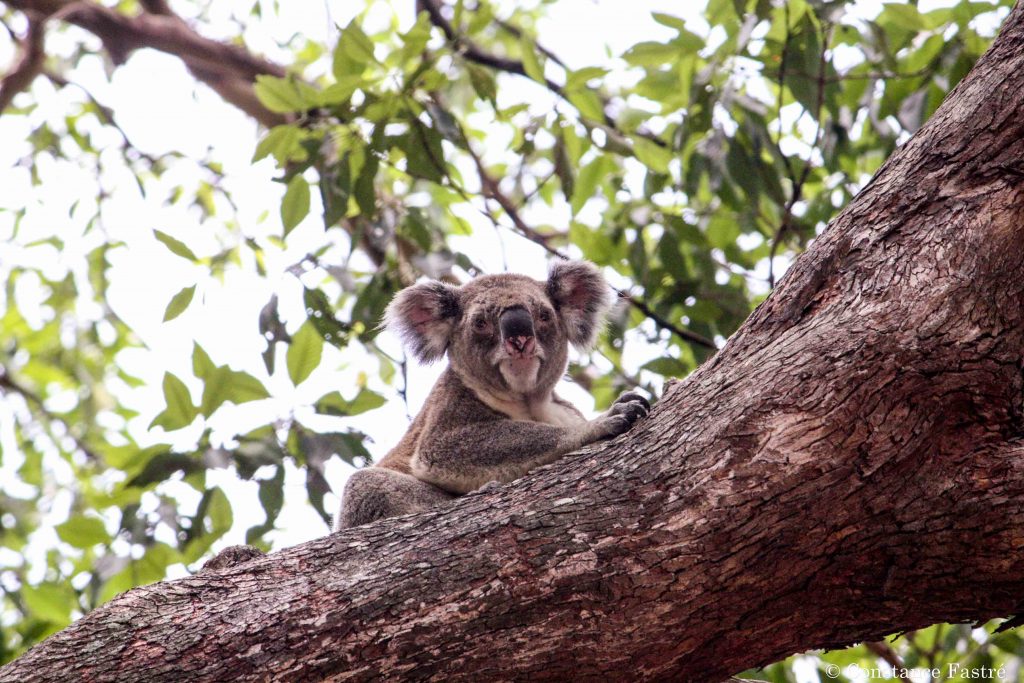 Two days on Fraser Island: legendary dingoes and epic sunrise
The easiest and most efficient way to get to Fraser when you do not have a car, is to book one of the many tours that leave from Brisbane for a weekend. With such tours, a 4×4 bus will take you, as well as 40 other people, to see all of the island's 'highlights' at a (too) fast pace. The largest sand island in the world is sublime: imagine a huge pile of sand with a rainforest growing on it in the middle of the ocean. I must insist on this particular aspect of the island: there is no one rock, no earth, only sand, and a forest grows on it. It is amazing and beautiful. To make it even better, there is a very high chance you will get to see what I was especially looking for: the purest strain of dingoes in Australia.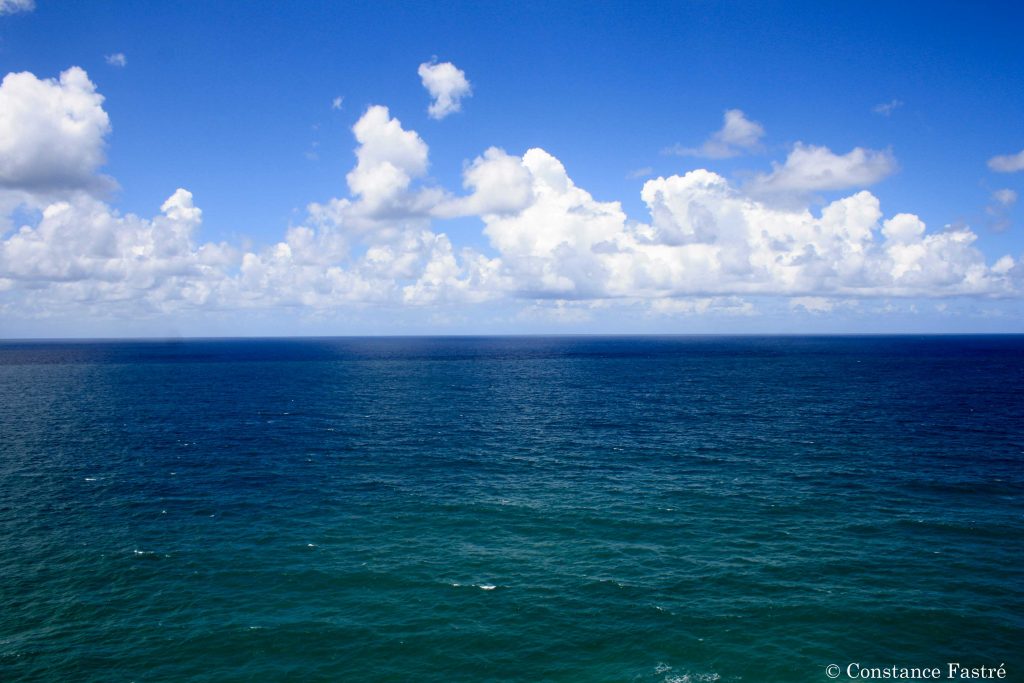 In most of the country, wild dingoes (Canis lupus dingo) have hybridized with feral dogs and pure dingoes have become extremely rare. Because dogs are prohibited on the island, Fraser's dingoes have remained genetically pure. They are notoriously easy to see and may even become aggressive when they are in a pack, so beware if you walk by yourself between dusk and dawn. Going out in the early morning on the beach is a good way to increase your chances of sightings, although that did not work for me. I was however rewarded during my early morning stroll by a dramatic pink sunrise which will probably remain one of the most beautiful things I will see in my life: the pink clouds, the golden rays of the rising sun, the blue sea and sand all around me (I was the only one brave enough to leave the comfort of my bed at 04.00AM). It was glorious, a little like one of these paintings representing heaven opening wide.
I still wanted a dingo, but it did not happen – quite yet. To be honest, we had spotted a female the day before (half an hour after arriving on the island), but the pictures I took were not satisfying. I was aiming at something visually more enthralling: a dingo with the sea in the background. As it turned out, the best strategy to spot dingoes is to drive around the beaches. We found what I was looking for, and even better, on our way out of Fraser at the end of the second day: a male dingo casually lying down in the sea. Seeing a dingo quietly walk along the beach with his paws in the water is magic. I got my pictures at last.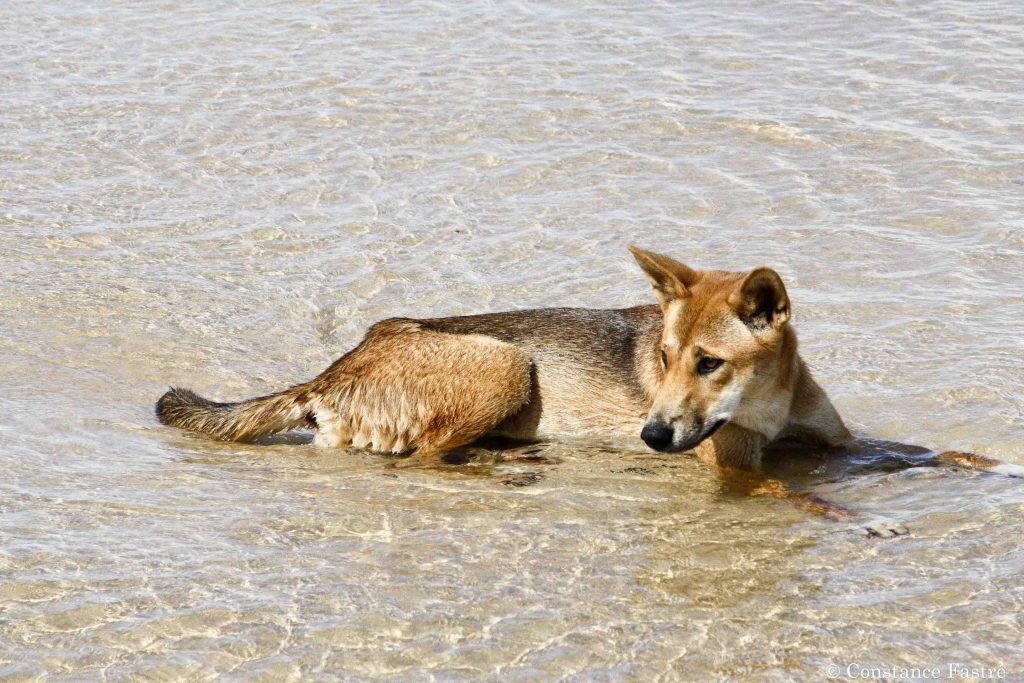 Besides a fair number of White-Bellied Sea-Eagles, which are common on Fraser, and a few Brahminy Kites (Haliastur indus), I only spotted rather common species. However, such organized tours are obviously not so great for birding. Despite poor birding, walking in a rainforest growing on sand was exhilarating and the views from the coast are gorgeous, no matter where you are. Expect hordes of tourists.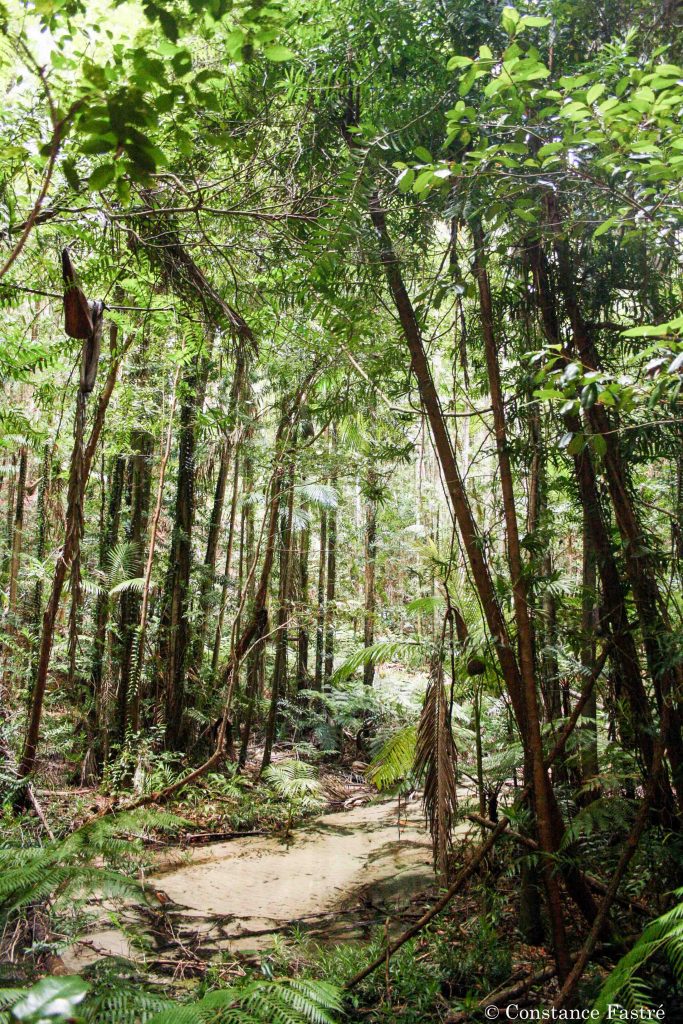 Lamington National Park: sleep among the lyrebirds and wallabies
Located two hours from the city, Lamington National Park is famous for its amazing forests, hiking trails and superb views. It is part of the Gondwana Rainforests of Australia World Heritage Area, which means you can expect a lush rainforest similar to what used to cover the planet before continents separated. For birders, the Park is well-known as the home of the Albert's Lyrebird (Menura alberti), the beautiful imitator bird made famous by David Attenborough.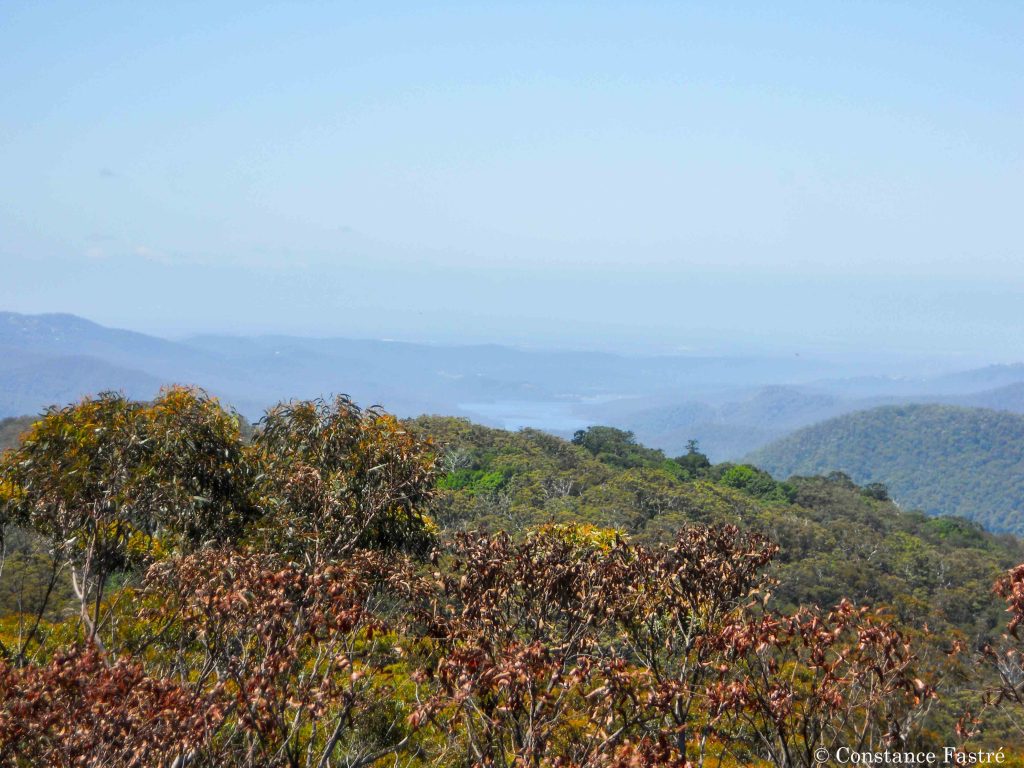 There are two main entrances/camping areas from which you can explore the park, namely the Bina Burra area (North-East of the park) and the Green Mountain area on the West. Both offer great hiking opportunities, but it is in Green Mountain that a few friends and I went on an expedition to find the elusive Lyrebird. Lyrebirds spend most of their time on the ground, scratching the litter to look for insects.  Because they are brown, very quiet and mostly hidden by the undergrowth, it is hard to get to see one of them. If you are lucky, you will hear a lyrebird singing, an interesting experience: it is like an orchestra made of all the forest's bird species singing one after another. But to see a lyrebird, it is best to walk the trails in the forest before all the tourists arrive (they are unfortunately very numerous during the weekends): dawn is thus a good time. We set off at first light and walked more than three hours when suddenly, there it was, a little ahead of us, on the path. It saw us and flew away, disappearing in the dense forest. I had seen a lyrebird. The day got even better, when, walking back to camp, we saw a dozen of the most adorable Red-Legged/Red-Necked Pademelons (Thylogale stigmatica/thetis). Oblivious of the campers, the animals were quietly grazing among the tents.
A few shots later, we reached those of us who had (inexplicably) preferred a few hours of sleep to an early morning birding session when one of them casually asks me which bird is that 'big brown brush-turkey-like bird over there behind the tent'. I could only think of one thing 'fitting' this description and there it was, behind the tent on the campground: an Albert's Lyrebird. I could not believe my eyes and I felt quite cheated by the universe for rewarding late sleeping instead of hard-core birdwatching. I however happily seized my camera and started shooting pictures. The bird was obviously used to getting attention and carelessly hung around for almost an hour. It was one of those great birding moments.
Lamington is a great birding place: apart from lyrebirds, you can expect Paradise Riflebirds, Satin and Shiny Cowbirds, Crimson Rosellas, Australian King Parrots, among dozens of interesting species. Since all of us were biologists, our little expedition soon became a wildlife spotting adventure, which delivered some of the most awesome fauna of the region: potentially deadly funnel-web spiders (do not stick your fingers in their holes), the endemic Land Mullet lizards, Eastern Water Dragons, venomous snakes (stay at a safe distance from any snake. Unlike me when I took the picture below), Common Brushtail Possums, Long-Nosed Bandicoots and the famous blue Lamington Crayfish, endemic to the park! See here a list of all the wildlife of the park. And all of this is wrapped in a beautiful forest with spectacular waterfalls, lookouts and hiking trails.
Springbrook National Park: glowing caverns and waterfalls everywhere
Because of their proximity, Lamington and Springbrook National Park's forests are equally beautiful. Two things make Springbrook particularly nice: the many stunning waterfalls and the glow-worms. It is difficult to know which, among the Rainbow, Twin, Gooroolba or any other falls you can walk past is the most beautiful, but it does not really matter since you should not miss any of them! If a walk in the shaded forest is not enough to relieve you from the heat, you can jump in some of the water holes and get a swim. It is as close as it gets to paradise.
I was curious to go and have a look from the 'Best of All Lookout' (its real name!). Given that most lookouts in Australia are simply so much more amazing than any other lookout you can see anywhere else, I expected to be breathtaken, struck by beauty and in awe. Admittedly, it was a great lookout, with a beautiful view, but the best? Not a chance…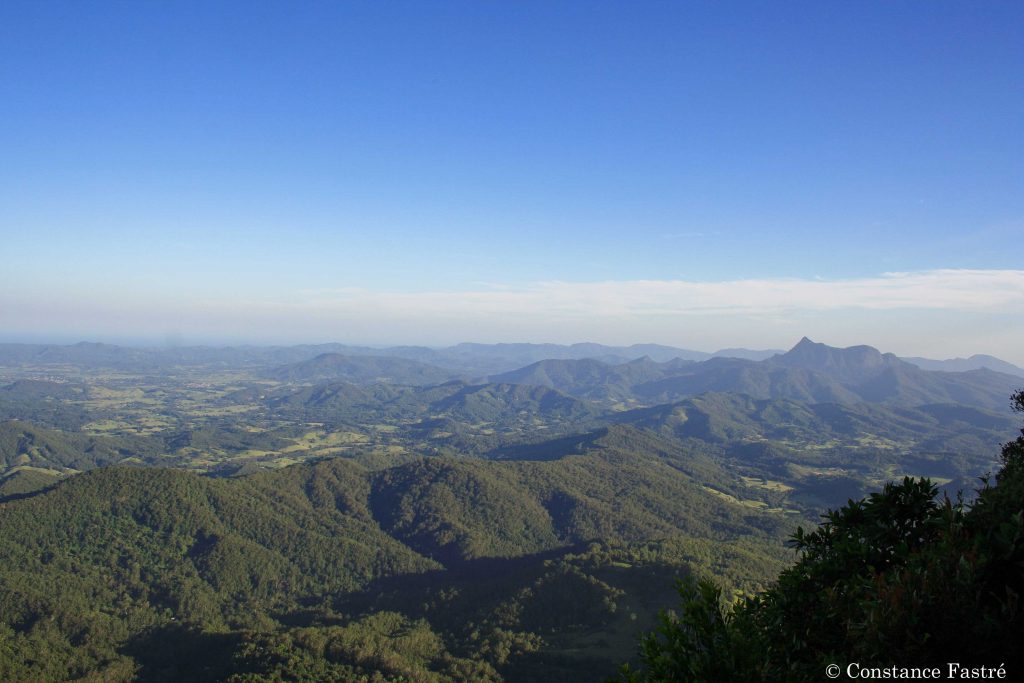 In the evening, we headed out towards the natural bridge and waited (among the crowd) for the night to fall. As it becomes dark, and the rainfall seeping through the stones turns to a blue-colored piece of art,  the ceiling and walls lit up as if covered by thousands miniature stars. In addition to covering up the ceiling of the cave, glowworms are everywhere in the surrounding forest, which makes a walk in the dark a fantastic experience in a fairy-tale forest.